Dolls Pram Cosy Set with Stars
This colourful doll accessory set consists of the Cosy doll's pram with cushion and blanket, a doll's bed and a matching shoulder bag. The doll's pram COSY has a lovely design and with its blanket and matching pillow the doll can fall in sweet dreams. The doll's pram is suitable for dolls up to 46 cm. The bicolored frame with the modern color matching wheels as well as the adorable sun hood give COSY its fantastic look. Thanks to the big wheels, the doll's pram COSY can be driven easily on uneven areas. For transportation or storage reasons the doll's pram can be folded. In addition, the integrated basket offers plenty of storage space for everything needed. Thanks to the pillow and the blanket, the doll can also fall asleep at home in the doll's bed. The matching shoulder bag is the ideal companion for a great walk outside with the Cosy doll's pram.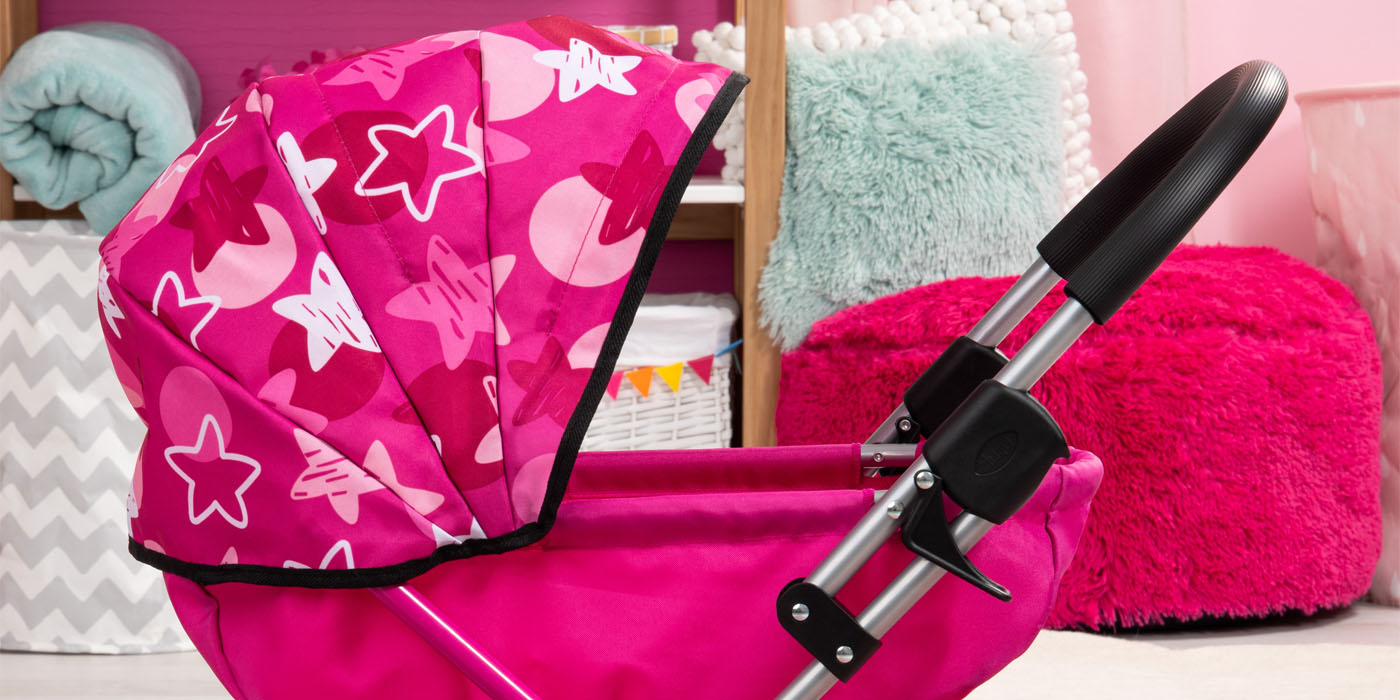 Explore our Dolls Pram Cosy with Stars
1.
For dolls up to 46cm
Cosy is a fashionable doll's pram with lovely design and offers space for dolls up to 46cm.
2.
Blanket with Pillow
The Cosy doll's pram includes a matching blanket with pillow. The perfect accessory for sweet dreams of your favourite doll!
3.
Foldable
The dolls pram can be easily folded, it is perfect for transport or storage.
4.
Design
The dolls pram Cosy convinces with a very modern design and has very stable colour-matching wheels and a coloured frame. The design, the different functions and the accessories make the Cosy a perfect pram.
5.
Shopping Basket
In the shopping basket you can take almost everything with you that the doll parents need for their journey.
6.
Shoulder Bag
Care accessories can be stored in the practical shoulder bag.
7.
Smooth Running Wheels
The large and soft light-weight wheels are ideally suited for all terrains. Dolls Pram Cosy is very stable and easy to handle outdoor or indoor.
8.
Travel bed for dolls
Thanks to the pillow and the blanket, the doll can also fall asleep at home in the doll's bed.
Explore the World of Bayer Design Dolls Prams