Combi Dolls Pram Milano Set
This beautiful play set is perfect for little doll's mums and dads to take care of their doll or their plush toy. The included modern designed doll's pram has an adjustable handle (42-74 cm). Therefore it is easily adaptable to your child's height. The doll's pram can be easily converted into a pushchair. The cover of the dolls pram will in either way - sitting or lying position of the doll - protect the doll from sun and wind. The swivel front wheels are perfect for a stable cornering. Moreover the play set includes a bed and a sleeping bag for a calm nap of the doll. The doll's pram is suitable for dolls up to 46cm, the sleeping bag and the travel bed is suitable for 42cm dolls. With the plastic accessories (bottle, pacifier, plate, spoon, fork and care items) the children can comfort, feed and take care of their doll. In addition the delivered shoulder bag offers space to store some of the accessory products for the next excursion.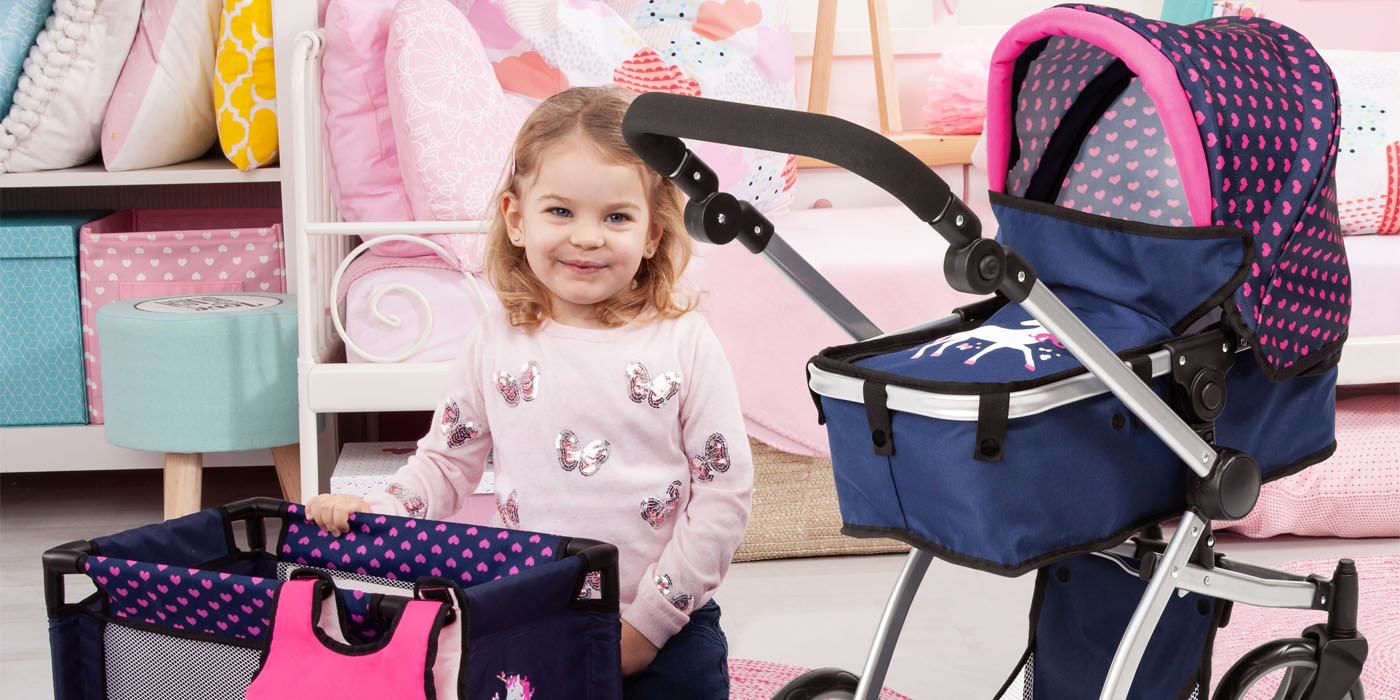 Explore the Combi Dolls Pram Milano with Travel Bed and Sleeping Bag
1.
For dolls up to 46cm
This combi doll pram Milano in modern design offers space for dolls up to 46cm and convinces with wonderful design.
2.
Adjustable Handle
Thanks to its height-adjustable handle (51-73cm) its already suitable for the littlest doll parents.
3.
Swivelling Front Wheels
The swivelling front wheel allows easy cornering. The soft smooth-running wheels are ideal for all terrains.
4.
Pushchair
With a minimum of effort, the doll's pram can be converted into a pushchair, so that the doll or soft toy can also be driven in a sitting position.
5.
Beautiful Design
With attention to detail, the fashionable blue unicorn heart design is a real eye-catcher.
6.
Shopping Basket
In the shopping basket you can store everything that the dolls parents need for a wonderful trip.
7.
Shoulder Bag
The included shoulder bag offers a lot of space for doll accessories.
8.
Enjoyable Ride
The large and smoothing running wheels are perfect for smooth driving.
9.
Travel Bed for Dolls
This beautiful travel bed for dolls is an absolute highlight in the children's room or when on a journey. It can be folded up to save space for easy storage. In this bed dolls up to 42 cm can be put to sleep for beautiful dreams.
10.
Sleeping Bag for Dolls
With this great sleeping bag the doll can sleep perfectly.
11.
Accessories
The set also includes a bottle for dolls, pacifiers, plastic tableware and bottles for care products.
Explore the World of Bayer Design Dolls Prams