Piccolina Love
Piccolina Love is a 42cm tall function doll with accessory. If you press Piccolina Love's right hand, you will hear sweet baby sounds. At the same time the baby doll will lovely blink with her eyes. If you squeeze slightly Piccolina Love's left hand, she will close her eyes and make cute sleeping sounds. Press again her left hand and Piccolina Love wakes up happily. During feeding Piccolina Love moves her mouth and smacks. Filled with water, you simply press on Piccolina Love's tummy and she has to pee on her potty. Piccolina Love laughes and giggles in between. The function doll offers the possibility of two play modes. In each play mode different baby sounds can be heard (play mode 1: baby sounds without crying, play mode 2: baby sounds including crying) and therefore the doll can be discovered again. For a lot joy of playing the set includes moreover a pacifier and a pacifier and a a pacifier chain, a bottle and a birth certificate. Piccolina Love wears a lovely body with matching hat and shoes. The battery is included.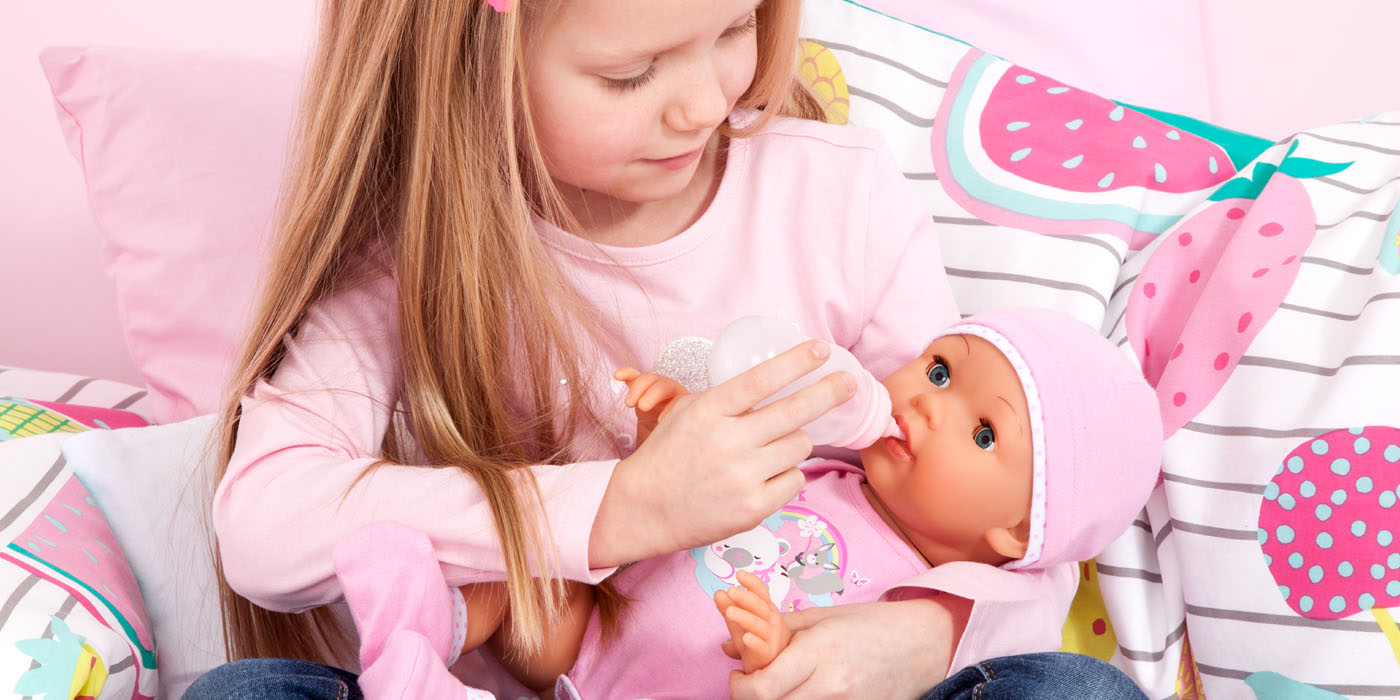 For privacy reasons YouTube needs your permission to be loaded. For more details, please see our
Data protection
.
I Accept
Discover the functions of Piccolina Love
1.
Speaks
If you press Piccolina Love's right hand, cute baby sounds she will make cute baby sounds.
2.
Blinks
The baby doll blinks sweetly with her eyes.
3.
Tired
If you gently press Piccolina Love's left hand…
4.
Sleeps
…she closes her eyes and makes sleeping noises.
5.
Laughs
By pressing her hand again she wakes up again and is happy.
6.
Drinks
If you give the bottle to Piccolina Love…
7.
Smacks
…she moves her mouth and smacks.
8.
Pees
When she has drunk water, you simply press her stomach and she will pee in her potty. Piccolina Love laughs and giggles happily.
9.
Movable
Arms and legs can be moved easily, making it ideal for role-playing games. Piccolina Love can even keep her eyes open while she is in the bed.
10.
Accessories
With many accessories like a potty, pacifier with chain, bottle, socks, birth bracelet and birth sign.
Explore the world of Piccolina