Dolls Pram Style with Unicorn
This modern doll's pram has a beautiful design. Its plastic carry case is suitable for dolls up to 46cm. Due to its adjustable handle, this doll's pram is easily adaptable to your child's height. The carry case can be mounted in direction of the child or in travel direction. The carry case's cover will protect the doll from sun and wind. The swivel front wheels in two colour design are perfect for a stable cornering. The matching accompanying bag has enough space to store accessories. For more storage space the integrated plastic shopping basket is also perfect to keep everything stored which is need for an excursion. Moreover the doll's pram offers the possibility to mountain instead of the carry case the EasyGo doll's car seat (not included in the delivery).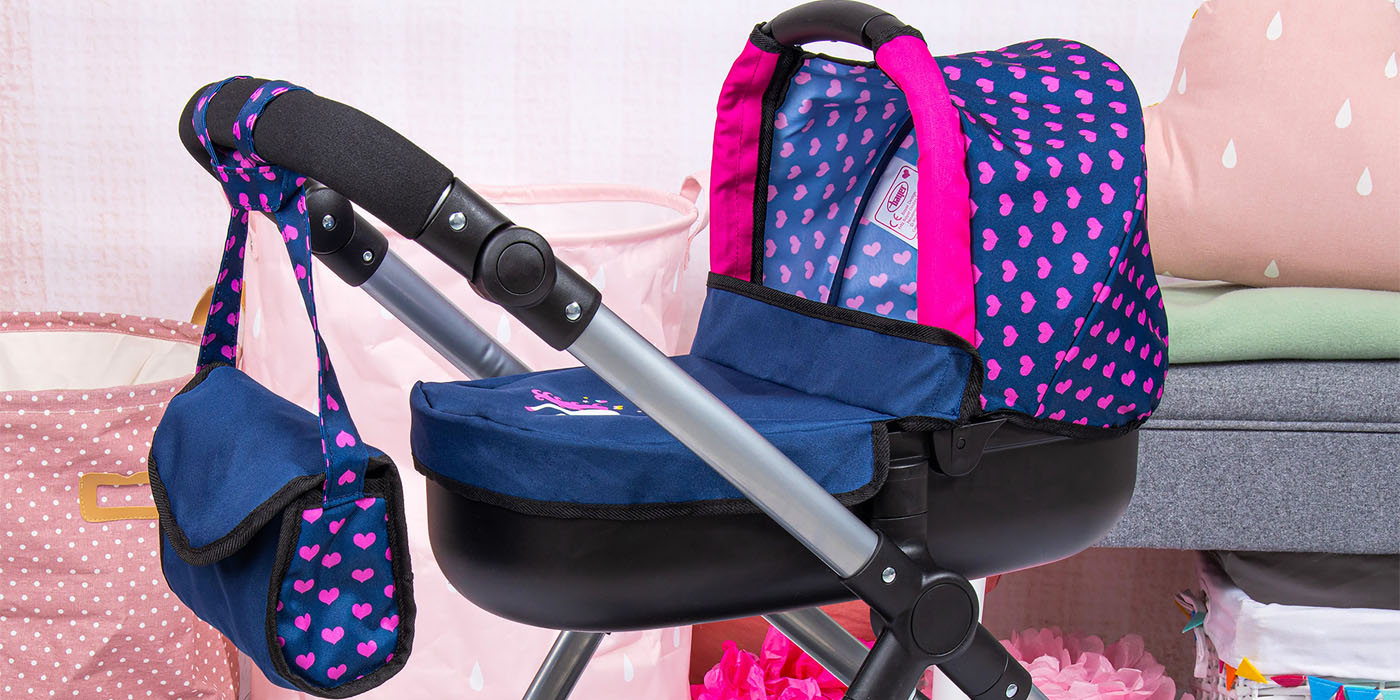 For privacy reasons YouTube needs your permission to be loaded. For more details, please see our
Data protection
.
I Accept
Explore our Dolls Pram Style
1.
For dolls up to 46cm
Style is a modern Dolls Pram in a trendy look, the pram convinces with high quality, fashionable colours and a wonderful design with great attention to detail. The dolls pram is suitable for dolls up to 46cm.
2.
Height-Adjustable Handle
Thanks to its height-adjustable handle (58-71cm) the perfect height for your child can be found within seconds.
3.
Carry cot
The Carry cot can also be used as a doll carrier separatly.
4.
Mountable
Another great possibility is to attach the carry cot in the direction of travel as well as in the direction of the child.en.
5.
Case cover
Moreover the case cover protects the doll from wind and sun.
6.
Shopping Basket
The integrated shopping basket underneath offers plenty of storage spage for more dolls accessories or other toys.
7.
Shoulder Bag
A special highlight of the dolls pram is the colour matching separate bag in which all needed can be placed.
8.
Compatible
The dolls car seat EasyGo can be attached to the frame of the Style doll's pram. (sold separately!) This provides more variation and there is nothing, which should stop having long-standing and happy playing afternoons.
9.
Smooth-running wheels
The swivelling front wheels in a 2-colour look and the stable frame ensure a pleasant ride. The doll's pram is perfect for driving around corners.
Explore the World of Bayer Design Dolls Prams!