Accessory-Set Vario, purple
With this Vario Set for dolls it is possible for the doll's mum to take care of her little darling. The bag, the doll carrier made of fabric, the plastic tableware and the multi-functional seat are perfect for many play roles. Furthermore the multi-functional seat can be used also as a swing, as a solid doll's carrier or as a highchair with tray. With the integrated belt the doll sits safely in its seat. The doll's carrier is suitable for dolls up to 46cm.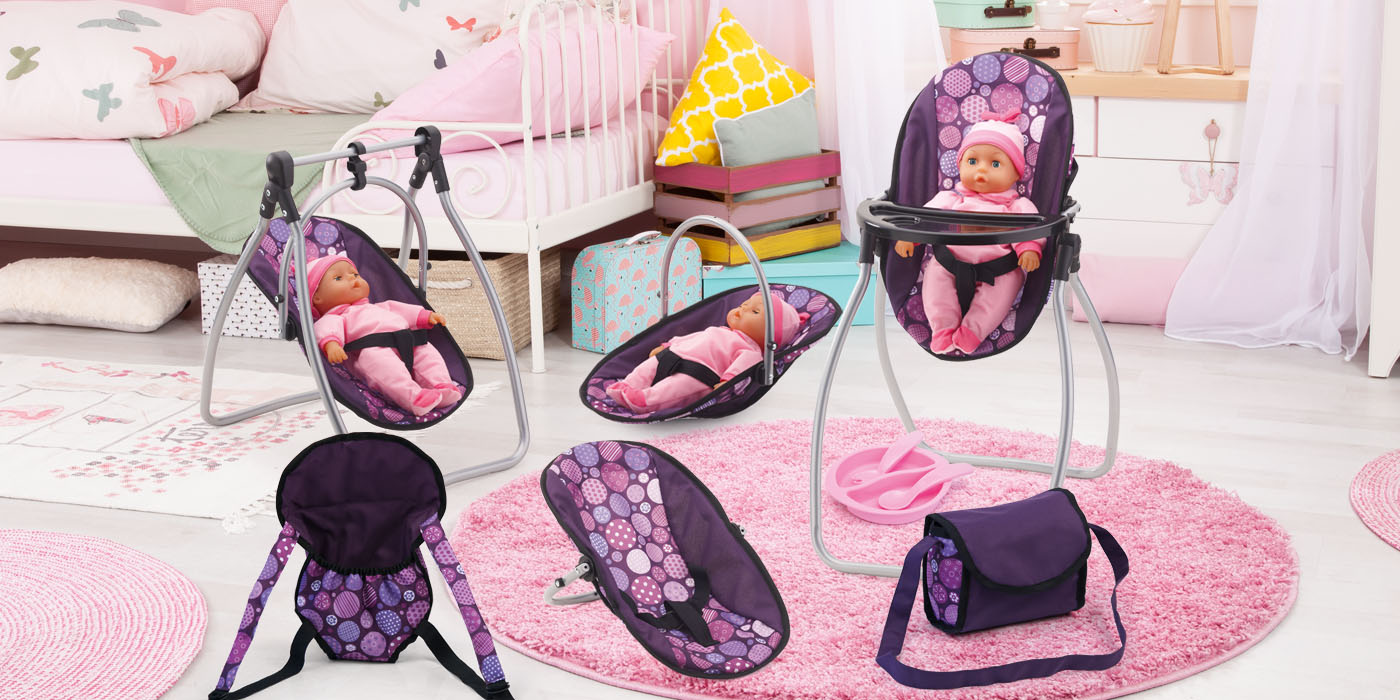 For privacy reasons YouTube needs your permission to be loaded. For more details, please see our
Data protection
.
I Accept
Discover the Vario Accessory Set with Multi Seat
1.
High Chair
With the high chair every doll feels like a real princess. She sits securely and has a clear view of everything around her. With the integrated dining tablet the doll can be fed comfortably
2.
Swing
The swing is ideal for a short time to relax. With the integrated belt the doll sits safely anytime. Dolls with sleeping eyes will have a quick nap there.
3.
Doll Carrier
Whether at home or on a journey, with the lightweight doll carrier the doll is always with you.
4.
Seat with Belt
Time for a break – the seat invites you to feed the doll.
5.
Carrying Belt
With this practical carrying belt the doll can be carried very well and comfortably. Whether on the road or at home, this carrying belt is suitable everywhere. The straps attached to the carrier can be placed over the shoulder of the doll mummy or daddy so the doll can sit safely in the carrying belt.
6.
Shoulder Bag
The useful colour matching shoulder bag offers a lot of space for doll accessories.
7.
Accessories
Plate with cutlery suitable for the high chair plate and all dolls.
Explore the Accessories of Bayer Design