Twin Dolls Pram with Fairy
This modern twin doll's pram is suitable for dolls up to 46 cm. The twin tandem has flexible sun covers and a height-adjustable handle, therefore it is easily adaptable to the child's height. It's possible to insert each seat in direction of travel or towards the child. Moreover the seats can be positioned straight - seat behind seat - or with an angle - one seat is more down, the other one more up. The twin doll's pram can be folded up to save space when travelling. Thanks to the integrated shopping basket, everything that is needed for a beautiful day trip, can be stored. It is also possible to mountain the EasyGo doll's car seat (not included in the delivery) on the twin tandem.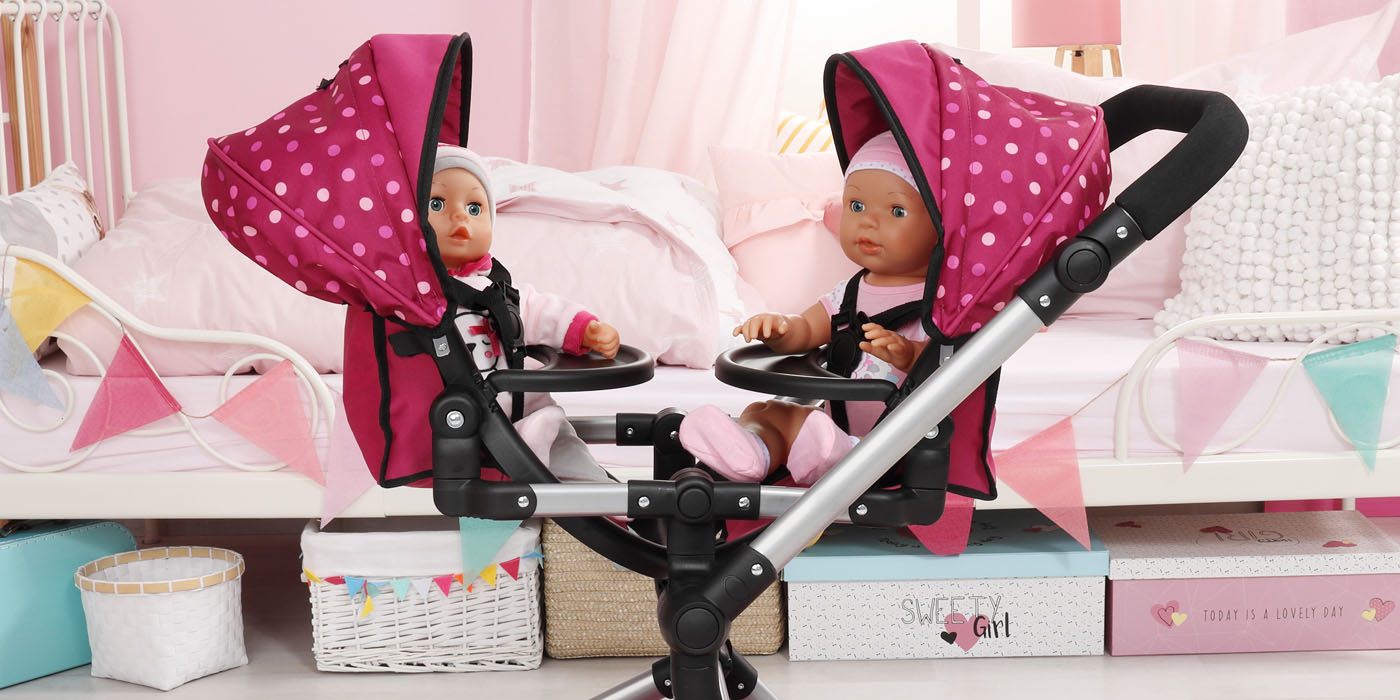 For privacy reasons YouTube needs your permission to be loaded. For more details, please see our
Data protection
.
I Accept
Explore our Twin dolls Pram with Fairy
1.
Suitable for dolls up to 46cm
Modern Twin Dolls Pram suitable for dolls up to 46cm.
2.
Height Adjustable Handle
Thanks to its height-adjustable handle (68cm – 80cm) the perfect height for the child can be found within seconds.
3.
Sun Cover
The dolls pram has adjustable sun canopies/covers for both seats, so the doll is alyways protected from sun and rain.
4.
Shopping Basket
In the integrated shopping basket everything which is neeeded for a trip can be stored.
5.
Smooth Running Wheels
The soft, lightweight wheels are ideal for all terrains. The swivelling front wheels ensure easy cornering.
6.
Foldable
The Twin Dolls Pram is very easy to fold, thus he is perfect for transportation or space-saving storage.
7.
Adjustable
Thanks to the possibility of placing the seats in the direction of the child or in the direction of travel, the favourite doll can always be placed in the desired direction. In addition, the angle of the seats is also adjustable.
8.
Compatible
Our modern twin dolls pram also offers the possibility to mount our EasyGo Car Dolls Set. (sold separatly in matching colours)
9.
Changing Bag
The included high-quality changing bag or shopping bag in matching has a zip to close it and can be used as a shoulder bag (long handle) or as a handbag – (2 short handles are additionally featured).
Explore the World of Bayer Design Dolls Prams